Salads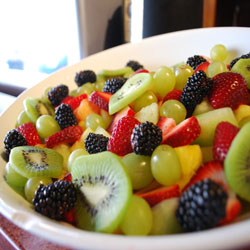 Garden Salads – $6.99 Café   $4.99 Side $9.99 Entree   $14.99 Family (Serves 2-4)
Sunshine Spinach
Baby spinach with fresh strawberries & blackberries served with our Raspberry Poppyseed dressing.
Caesar
Crisp romaine, bacon, parmesan & storemade garlic croutons.
 Greek
Served with our signature Creamy Feta dressing.
Spinach Mandarin
With mushrooms, red onion, bacon bits and sprinkled with a little mozzarella.
Summer Berry
Fresh blueberries, strawberries and toasted almonds paired with our Raspberry Vinaigrette.
Boathouse
Topped with aged cheddar, bacon bits & served with our Buttermilk Ranch dressing.
Strawberry Feta
Field greens & fresh berries with our zippy Raspberry Vinaigrette.
Sonoma
Chicken, grapes, raisins, sunflower seeds, feta & toasted almonds with our Balsamic Vinaigrette Dressing.
Mariposa Chef
Made with oven roast turkey, blackforest ham & tangy white cheddar.
Asian
Broccoli, cabbage & snow peas sprinkled with toasted almonds & orange with our Sesame Ginger Dressing.
Autumn Harvest
Peppered with fresh juicy blackberries, dried cranberries & apple rings. Served with Balsamic Vinaigrette Dressing.
Deli-Style Salads – $6.99 Café   $4.99 Side   $19.99 Family (serves 2-4)
California Salad
Our signature summer salad. Broccoli, strawberries, grapes & raisins.
Mom's Potato Salad
Old fashioned comfort food for a warm summer day!
China Island Chicken
Cabbage, carrot, snow peas & candied cashews tossed in our Sesame Ginger Vinaigrette.
Chicken Caesar Pasta
Rotini pasta & fresh veggies tossed in our Creamy Caesar Dressing.
Mediterranean
Cherry tomatoes, cucumber, sweet onion & peppers with Kalamata olives & feta. Tossed in a light Olive Oil & Lemon Vinaigrette.
Greek Pasta
Penne pasta & veggies tossed in our Creamy Feta dressing.
Morning Pastries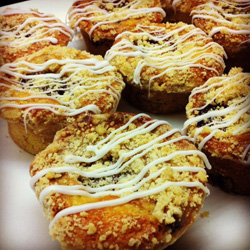 Muffins – $2.75 Each   $12.99/6
Apple Pie, Whole Grain Pumpkin Cranberry Pecan, Blueberry Cheesecake, Pumpkin Spice, Wild Blueberry, Raisin Bran, Lemon Cranberry, Banana Blueberry Bran, Harvest Granola, Carrot Nut, Cranberry Carrot Pecan
Premium Health Muffins – $3.50 Each   $17.99/6
Maple Apple Cranberry Power, Super Health Spelt, Maple Blueberry Power
Teabiscuits – $2.75 Each   $5.99/6
Cheddar, Raisin, Plain.
Handmade Donuts – $2.50 Each   $12.99/6
Chocolate Dipped, Honey Glazed, Boston Cream, Cinnamon Twist
Funky Donut Flavours-$2.75 Each   $14.99/6
Park Avenue Dutchies, S'mores, The Jimmy Buffet, Crazy Canuck, King Kong, Chocolate Cherry Cheesecake, ET Phone Home
Breakfast Pastries-$2.99 Each   $14.99/6
Turnovers, Mini Strudels, Butter Croissants
Mariposa Market Signatures – $2.99 Each   $14.99/6
Our famous Texas Donuts, Cheddar Cheese Croissants, Danish, Cinnamon Sticky Buns, Raspberry Filled Croissants
Desserts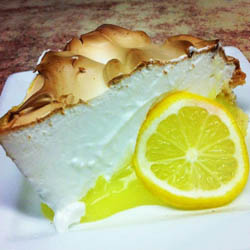 Decadent Cupcakes – $2.99 each   $14.99/6
Death by Chocolate, Red Velvet, Rolo, Skor, Creamsicle, Pink Lemonade, Strawberry Margarita, Oh! Henry
Chocolate Eclairs – $3.50 each   $17.99/6
Positively stuffed with pure whip cream!
Bombs – $3.50 each   $17.99/6
Simply sinful puff pastries.
Cheesecake by the Hunk – $4.50
Fresh Strawberry, Pumpkin, Turtle Brownie
Dessert Cakes by the Hunk – $4.50
Strawberry Venetian Truffle, Skor, Blackforest, Strawberry Shortcake, Caramel Mountain, Colossal Carrot Nut
Pies by the Hunk – $3.99
Lemon Meringue, Pumpkin, Muskoka Berry, Raspberry Rhubarb Crumble, Southern Pecan, Sinful Chocolate Pecan, Coconut Cream, Banana Cream, Old Fashioned Strawberry Rhubarb, Dutch Apple
Bourbon Street Bread Pudding – $4.50
Bananas, chocolate chips, pecans…wickedly good!
Apple Crisp – $4.50
A homestyle crisp made with tart Georgian Bay apples & topped with whip cream.
Specialty Coffees & Teas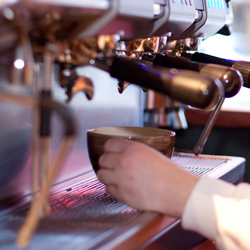 At our Cappucino Bar our baristas offer an extensive selection of espresso based specialty coffees including authentic hand prepared Cappuccinos, Lattes, Mochas & Frappuccinos. You'll also discover innovative steamed hot chocolate creations using the finest Ghiradelli chocolate products and a wide array of imaginative fruit smoothies. And if you're a tea drinker we have a nice selection of high quality whole leaf teas to choose from too!
Sandwiches
Signature Sandwiches – $7.99
French Cafe Turkey Croissant
Turkey, jalapeno herb havarti & veggies with a splash of our homemade Sweet Red Pepper Jelly.
Mandy's Spicy Italian Baguette
Spicy salami & Black Forest ham with tomato & cucumber on a crusty ciabatta with a splash of Italian dressing.
Garden Tuna Croissant
Our very own tuna salad topped with veggies on a fresh cheddar cheese croissant.
Elora Ham & Cheddar
Honey baked ham, aged white cheddar & cucumber with homemade sweet red pepper jelly.
Malibu Chicken Salad Croissant
A lively little chicken salad with fresh Granny Smith apples, dried cranberries & toasted almonds.
El's Egg Salad
A twist on the classic. Homemade egg salad topped with crispy bacon, sliced tomato & fresh greens.
Roast Turkey
Oven roast Ontario turkey, cheddar, tomato & cucumber with maple mustard.
Honey Baked Ham
Honey baked ham with cheddar, tomato & cucumber with maple mustard.
Wraps – $7.99
Chicken Fajita Wrap
Served with a zippy tomato salsa and side of fresh sour cream.
Awesome Turkey Wrap
A lively combination of cashews, dried cranberries & mozzarella.
Chicken Caesar Wrap
Chicken breast, grated parmesan & bacon wrapped in our garlicky Caesar dressing.
Monster Veggie Wrap (Vegetarian)
Red pepper hummus, chick peas, tomato, cucumber & greens with crumbled feta.
Buffalo Chicken Wrap
Lightly breaded chicken & cheddar tossed in Frank's Red Hot Sauce.
BBQ Chicken Ranch Wrap
Smokey BBQ chicken chunks drizzled with our creamy Buttermilk Ranch dressing
Grilled Cheese Sandwiches & Paninis – 7.99
Mom's Grilled Cheese
Canadian cheddar piled high on our thick-cut White Bread.
Triple Loaded Grilled Cheese
Bacon, cheddar & Havarti piled up high on thick-cut White Bread.
Apple Grilled Cheese
Granny Smith apple & aged cheddar on thick-cut Stone-Milled Whole Grain Bread.
Bakery Specialties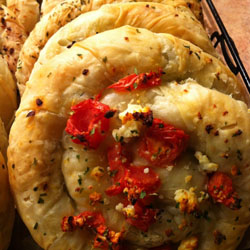 Spinach Tomato Feta Quiche – $4.99
A Mariposa Market signature item-all veg!.
Ham & Cheddar Quiche – $4.99
With Black Forest ham & aged Canadian cheddar.
Chicken Broccoli Triple Cheddar Quiche-$4.99
Actually it's topped with a blend of four cheeses! Cheddar, Havarti, parmesan & feta.
Cheddar & Country Ham Baked Sandwich – $5.99
A Mariposa Market signature item.
Mom's Meat Pie – $5.99
Chunks of oven baked roast beef & potatoes in a traditional gravy.
Chicken Pot Pie – $5.99
Nothing like a little comfort food!
Shepherd's Pie – $5.99
An old fashioned favourite made with carrots, peas, creamed corn & mashed taters.
Steak & Potato Pie-$5.99
Just meat, taters & gravy!
San Francisco Baked Hot Dog – $4.99
Topped with shredded cheddar and baked in our oven.
Sausage Rolls- $4.99
Smoked turkey sausage hand wrapped in golden puff pastry.
Oven Baked Chicken Enchiladas – $5.99
Chicken breast, cheddar, mild salsa & sweet onion. Ole!
Smokehouse Pulled Pork Baguette Melt – $6.99
A pretzel baguette topped with slow roasted pork topped with a smoky bbq sauce.
Brooklyn Meatball Baguette Melt – $6.99
Our oven fresh baguette heaping with meatballs and mozzarella cheese.
Chicken Parmigiana Baked Sandwich – $5.99
Melted mozzarella, tomato sauce & parmesan crusted chicken breast.
Buffalo Chicken Baguette Melt – $6.99
Lighted breaded chicken tossed in Frank's Red Hot sauce.
Lumberjack Baguette Melt – $6.99
Stuffed with smoky bbq pulled pork, bacon, fresh apple, cheddar & a dash of local maple syrup.
Chicken Bruschetta Flatbread – $8.99
Fresh tomato, herbs & tangy garlic sauce.
Greek Chicken Veggie Flatbread – $8.99
Slivered chicken breast, a bunch of veggies & crumbled feta cheese.
BBQ Chicken Ranch Flatbread – $8.99
Smoky bbq chicken and cheddar with a drizzle of creamy Buttermilk Ranch dressing.
Mac 'n Cheese – $7.99
Super cheesy comfort food.
Lasagna – $7.99
We do classic meat lasagna as well as a delicious vegetarian Alfredo version.
Wheat-Free Options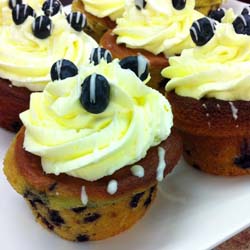 Cakes
6"- $24.99 (serves 4-6)
7"- $29.99 (serves 6-8)
9″- $34.99 (serves 6-10)
1/4 slab- $44.99 (serves 10-20)
Strawberry Venetian Truffle
Summer Berry Torte
Chocolate Strawberry Venetian Truffle
Gourmet Cupcakes – $4.99 each   6/$24.99
Turtle, Pink Lemonade, Rolo, Death by Chocolate, Skor, Creamsicle
Loaves – $9.99 each
Lemon, Summer Berry Cheesecake, Lemon Cranberry, Pink Lemonade, Creamsicle, Turtle, Apple Pie, Skor, Death by Chocolate, Almondillo
Cookies – $7.99/dozen
Chocolate Chunk, Trail Mix, Turtle, Oatmeal Raisin
Muffins – $3.25 each   $14.99/6
Blueberry, Chocolate Chip, Lemon Cranberry, Apple Pie, Muskoka Berry, Peach Raspberry, Pink Lemonade, Summer Berry
Wheat-Free Rice Bread – $7.99
Energy Bars – $3.50 each   $17.99/6 (Dairy Free)
Sea Salted Caramel Toffee Almond, Cranberry Pecan, Pumpkin Cranberry Pecan, Honey Almond, Pecan Carrot Spice, Pecan Pumpkin Chai
Granola Bars-$3.50 each   $17.99/6 (Vegan)
Maple Pecan, Sea Salted Caramel Pecan
Power Cookies-$2.99 each   $14.99/6
Original, Coconut Chai, Chocolate Peanut Butter Fudge
Wheat-Free Sandwiches – $7.99
Turkey & Havarti on our Wheat-Free Bread
made with our homemade sweet red pepper jelly
Ham & Cheddar on our Wheat-Free Bread
served with a smidge of homemade apple chutney