2
Our Bakery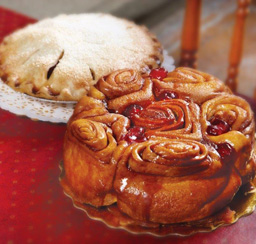 Come savour the aroma of cinnamon buns warm out of the oven. Taste truffle laced tortes just dripping with chocolate dipped strawberries, homemade chocolate chunk cookies and éclairs stuffed full with real whip cream. The Mariposa Market bakers create a breathtaking array of handmade pastries, cakes, pies and breads each and every day. From our Cranberry Walnut Bread, our chunky homemade apple fritters, our famous Skor Cake, and our gooey Apple Pecan Chelseas, the bakery alone is worth the trip.
Our Café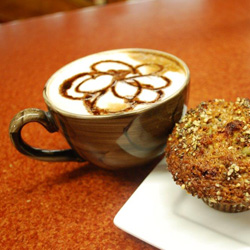 Come discover why the Mariposa Market Café is Orillia's favourite place to meet family and friends. We invite you to pull up a chair and tuck into a turkey and stuffing sandwich with homemade sweet pepper jelly, or perhaps our signature California salad heaping with fresh strawberries and grapes. From buttery croissants and homemade meat pies, to steamy cocoa positively brimming with marshmallows, the Mariposa Market Café is known far and wide for incredible food and selection. And no visit is complete without sampling one of our famous Texas Donuts smothered in fudge icing!
The Seasons Shop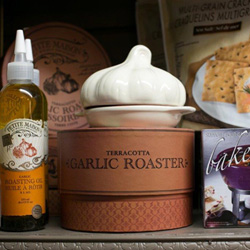 Our Seasons Shop truly changes with Mother Nature. In the Springtime it's a walk in the garden with whimsical stepping stones and hand painted bird houses. Come Summer, it's a day by the lake with gifts for the cottage, and everything to make the perfect family picnic. In the Fall, the Seasons Shop comes alive with colour, cranberry pumpkin spice kitchen candles and heart warming throws. Then, with the arrival of Winter, the Seasons Shop celebrates the magic of Christmas past with decorating ideas to turn your home into a winter wonderland.
The Scent Shop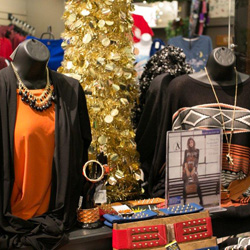 From exquisite toiletries by Crabtree & Evelyn and environmentally friendly soaps and scrubs from the Rocky Mountain Soap Company, to the latest purses from Guess, we invite you to indulge your senses in the Scent Shop. Unique jewelry, snuggly cotton nightwear and beautiful Canadian made clothes and accessories – the Scent Shop is literally a store full of small treasures. Take a step back in time and explore our Victorian themed shop for ladies and treat yourself to something nice.